Revealing Pitzhanger
In March 2015, Pitzhanger closed to the public to undertake a major project, aiming to return Sir John Soane's Manor to its original design.
The project, led by Ealing Council in collaboration with Pitzhanger Manor & Gallery Trust, peeled back layers of history, extensions and overpainting, returning Pitzhanger to Soane's original design, now visible for the first time in over 175 years. The Regency Manor, built between 1800 and 1804, is a rare and spectacular example of a building designed, built and lived in by Sir John Soane himself. With its stripped classical detail, canopy domed ceilings, radical decorative paint schemes and inventive use of space and light, Pitzhanger features many architectural elements that Soane adapted for his later buildings including Dulwich Picture Gallery and his city home in Lincoln's Inn Fields.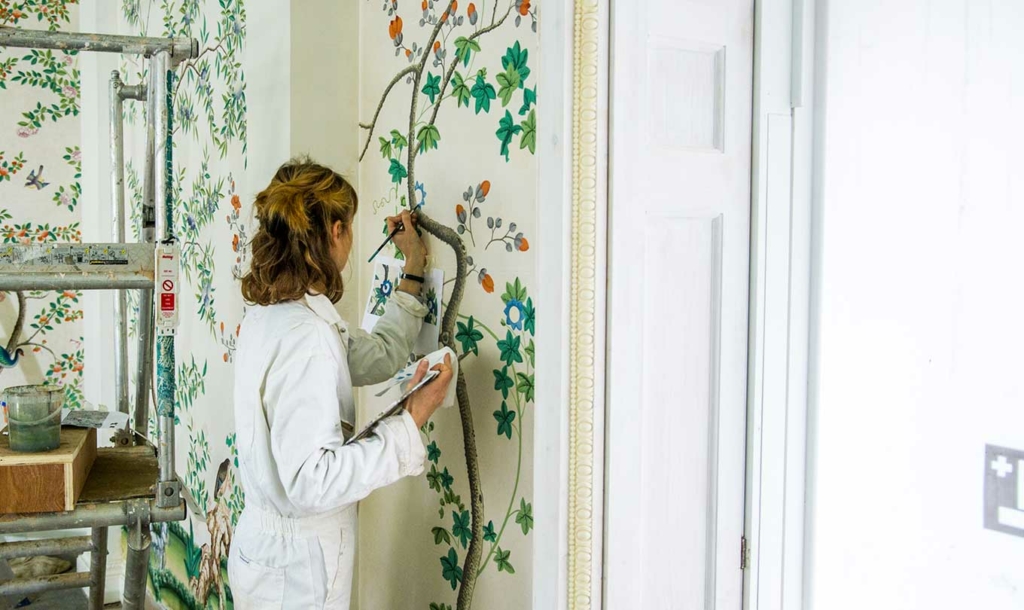 Important structural elements of Soane's design were reinstated, such as the conservatory demolished in 1901 and the dramatic central roof light which returns Pitzhanger to the silhouette Soane intended.
The recreation of a colonnade connecting the Gallery and Manor provides full accessibility for all visitors. Soane's original intricate paint schemes, which were overpainted in the 1830s, have also been meticulously recreated throughout the Manor following detailed historic paint analysis by interior decoration specialists Hare & Humphreys. The dramatic marbling in the entrance hall and the hand-painted Chinese wallpaper in the Upper Drawing Room have revitalised Pitzhanger's interiors.
The conservation and restoration project was led by architects Jestico + Whiles with the support of heritage experts Julian Harrap Architects. They were supported by a large team of specialist contractors, led by Quinn London Ltd. Craftspeople from across the UK lent their skills to reinstating Soane's intricate and idiosyncratic designs, from stone carving to Chinese wallpaper, landscaping to glass.
The conservation project was supported by Ealing Council, National Lottery Heritage Fund, Arts Council England and many other generous trusts, foundations, individuals and corporate sponsors. Find out more about Pitzhanger's supporters and how to contribute here.
To find out more about the conservation project, visit our YouTube channel
See the restored Manor with Griff Rhys Jones
See The Career of a Decorative Painter with Alasdair Peebles
See Remaking Historic Interiors with Hare and Humphreys