A huge thank you to everyone who helped us exceed our target of £65k with our first Artists for Pitzhanger fundraising campaign.We are grateful for every single donation, purchase and raffle ticket which will help us reopen again and support our future learning and outreach programmes. The Raffle raised over £10k and we're pleased to announce that the winner of the Anish Kapoor etching 'Untitled' is … Anne Grange from Borehamwood! Anne told us: "I am absolutely delighted to win the print. I visited the Gallery last year to see the Kapoor exhibition and the newly restored building. It was a wonderful day out and I was happy to be able to enter the raffle in support of the gallery."
Take part in a raffle to win a limited edition etching donated by Anish Kapoor in aid of Pitzhanger Manor & Gallery. Raffle tickets cost £25 with 100% of the proceeds supporting Pitzhanger's reopening and future exhibitions and learning programmes.
Anish Kapoor has generously donated Untitled, 2015 to the Artists for Pitzhanger initiative. In this etching, the deep red and encroaching darkness recall Kapoor's signature artistic concern with the poetic quality of colour and organic form.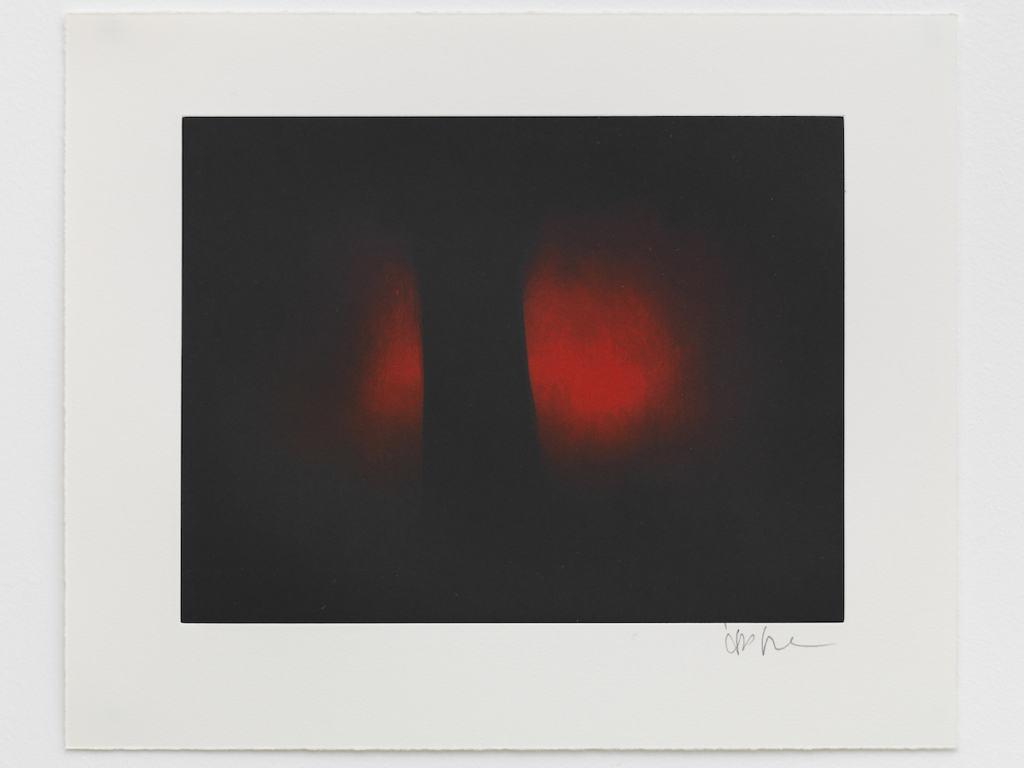 The donated limited edition etching also echoes Kapoor's approach in the installation Marsyas in the Turbine Hall at Tate Modern in 2002 and the interior shadows of Kapoor's Leviathan installation at the Grand Palais, Paris 2011
Pitzhanger was honoured to have Sir Anish Kapoor CBE, RA as the inaugural exhibiting artist at the newly restored Manor and Gallery in March 2019. The exhibition brought together a new body of his mirror works to create a relationship between sculpture, architecture and the viewer.
Known primarily as a sculptor, Kapoor first began producing prints in the late 1980s. Using the vocabulary of his drawings and sculptures suggestive of organic forms and structures that materialise from deep colour to create both a physical and psychological space.
Kapoor represented Great Britain at the Venice Biennale in 1990,and went on to win the Turner Prize in 1991. He is renowned for his public sculptures that are often on a vast and architectural scale, these include Marsyas (2002) for the Turbine Hall at Tate Modern, Cloud Gate (2004) in Chicago's Millennium Park, Leviathan at the Grand Palais, as part of Monumenta (2011) and Orbit, (2012) in the Queen Elizabeth Park, London.
The raffle will close at 11.59pm on 4/11/2020.
The winner will be announced on 6/11/2020.
To learn more about Artists for Pitzhanger limited edition art sale please click here.
For Raffle Terms & Conditions check here.
Responsible Gambling
Pitzhanger Manor & Gallery is committed to operating the lottery in a socially responsible way. If you, or someone you know, need information and/or help with problem gambling, please call the National Gambling Helpline on 0808 8020 133 or visit the Be Gamble Aware website. Pitzhanger Manor & Gallery is proud to be registered with the Fundraising Regulator.