A huge thank you to everyone who helped us exceed our target of £65k with our first Artists for Pitzhanger fundraising campaign.We are grateful for every single donation, purchase and raffle ticket which will help us reopen again and support our future learning and outreach programmes. The Raffle raised over £10k and we're pleased to announce that the winner of the Anish Kapoor etching 'Untitled' is … Anne Grange from Borehamwood! Anne told us: "I am absolutely delighted to win the print. I visited the Gallery last year to see the Kapoor exhibition and the newly restored building. It was a wonderful day out and I was happy to be able to enter the raffle in support of the gallery."
Pitzhanger Manor & Gallery is delighted to be running an exciting sale of limited edition artworks by leading artists who are generously supporting the initiative: Emily Allchurch, Anish Kapoor, Karen Knorr, Miyu Kurihara, John Riddy and Othello De'Souza-Hartley.
Works by the different artists, which will include limited edition photographic prints, ceramics and jewellery, launch on 30 September and will be sold through the month of October, with each artist having their own unique window of sales.
Artists for Pitzhanger will raise vital funds to help Pitzhanger's recovery at this time of need, supporting our recent reopening and future learning and outreach programmes.
The Impact of Your Support
We need your support more than ever. Pitzhanger had only been open for one year when we closed in response to the Covid-19 situation in March. On closure, we immediately lost 100% of our admissions and commercial income essential to keep Pitzhanger open, and to support our exhibitions programme and learning and outreach activities. Even now we have reopened, social distancing measures mean that our income will remain well below a sustainable level this year. Predicted losses this financial year due to 6 months closure and prolonged social distancing to March '21 amount to £460,000, that is c. 52% of total annual turnover
Artists for Pitzhanger is one of the key ways for us to raise funds to help us continue to deliver our mission to engage and inspire our communities, with art, architecture and design.
The Artists
Anish Kapoor
---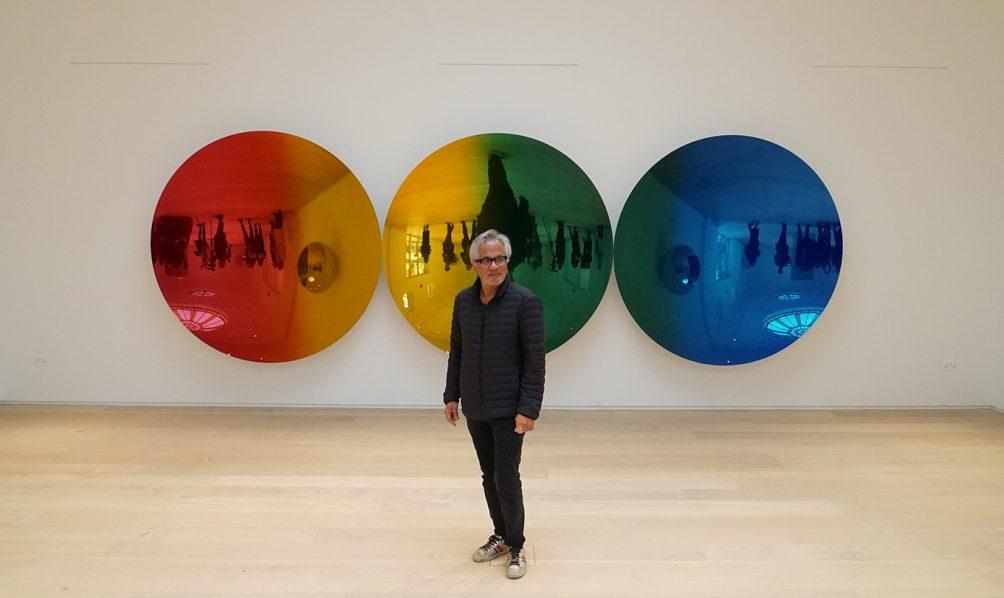 Anish Kapoor (born 1954 in Mumbai) has lived and worked in London since the early 1970s. He is one of a generation of artists whose work in the 80s was referred to as New British Sculpture, which was seen as a reaction to the legacy of Minimalism.
Kapoor works across a range of materials from pigment, steel and stone to PVC, wax, resin and most recently silicone.
Pitzhanger was honoured for Anish Kapoor to create the inaugural exhibition at the newly restored Manor and Gallery in March 2019. The exhibition brought together a new body of his mirror works to create a relationship between sculpture, architecture and viewer.
His early works presented a body of pigment sculptures, illusive forms that emerged from the walls and floor of the gallery space. Known primarily as a sculptor, Kapoor first began producing prints in the late 1980s. Using the vocabulary of his drawings and sculptures suggestive of organic forms and structures that materialise from deep colour to create both a physical and psychological space.
Kapoor represented Great Britain at the Venice Biennale in 1990, and went on to win the Turner Prize in 1991. He is renowned for his public sculptures that are often on a vast and architectural scale, these include Marsyas (2002) for the Turbine Hall at Tate Modern, Cloud Gate (2004) in Chicago's Millennium Park, Leviathan at the Grand Palais, as part of Monumenta (2011) and Orbit, (2012) in the Queen Elizabeth Park, London.
Twahina Disc Pendant Sale: 10am on 30th September – 5pm on 4th October.
To take part in raffle to win a limited edition Anish Kapoor print please click here. Raffle closes at 11.59pm on 4th November 2020.
Karen Knorr
---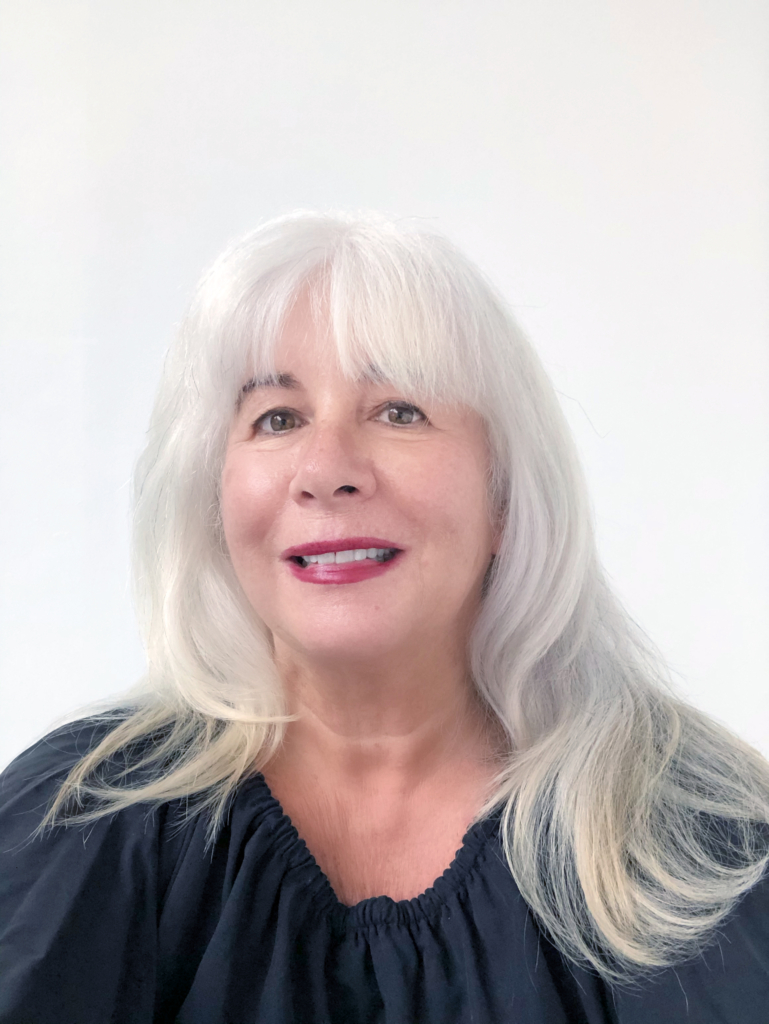 Karen Knorr was born in Germany and grew up in San Juan, Puerto Rico in the 1960s. She then moved to Paris to study before coming to England. She has been a Professor of Photography at the University for the Creative Arts, Farnham, since 2010. Knorr has taught, exhibited and lectured internationally, including at Tate Britain, Tate Modern, The University of Westminster, Goldsmiths, Harvard and The Art Institute of Chicago. Knorr is also the Honorary Fellow of the Royal Photographic Society. She is a great advocate for women in photography and is on the steering committee and joint founder of Fast Forward Women in Photography. Knorr's work is held in private collections globally in addition to the Tate, the San Francisco Museum of Modern Art, the Centre Pompidou in Paris and the Museum of Art & Photography in Bangalore. Knorr won the Vth International Photography Pilar Citoler Prize in 2011 and the Prix Pictet in 2012 and 2018. Her series, "India Song", was nominated in 2011 and 2012 for the Deutsche Börse Photography Prize – Europe's most prestigious award "for a living photographer who has made the most significant contribution to the medium of photography over the past year". She was appointed an HonsFRPS in 2018.
Knorr shares with Pitzhanger a passion for community. Before, but especially during the Covid pandemic, Knorr has been very involved supporting the arts and many other charitable causes: she has raised funds for Support in Mind (Scotland), Crisis, Refuge, the Trussell Trust, Chiswick House and with the funds raised from her involvement with the the Artist Support Pledge initiative will be publishing a new book with proceeds going to Black Minds Matter.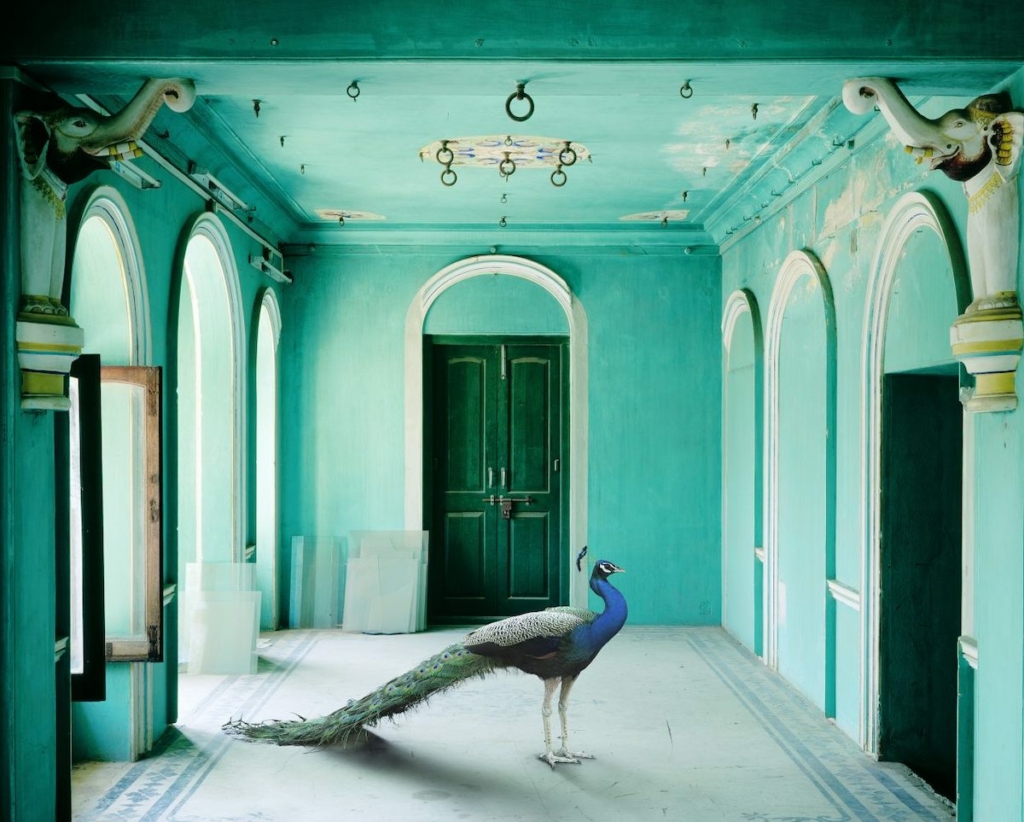 Karen Knorr Sale: 10am on 5th October – midnight on 8th October. Archival Digital Print. Edition of 25, first 20 priced at £1,000, last 5 priced at £1,500.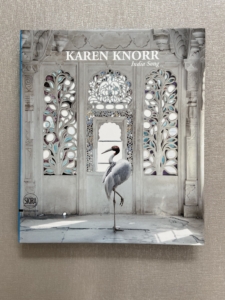 India Song. Edition of 10 signed – £150 each. 100% of the proceeds go to Pitzhanger Manor and Gallery.
John Riddy
---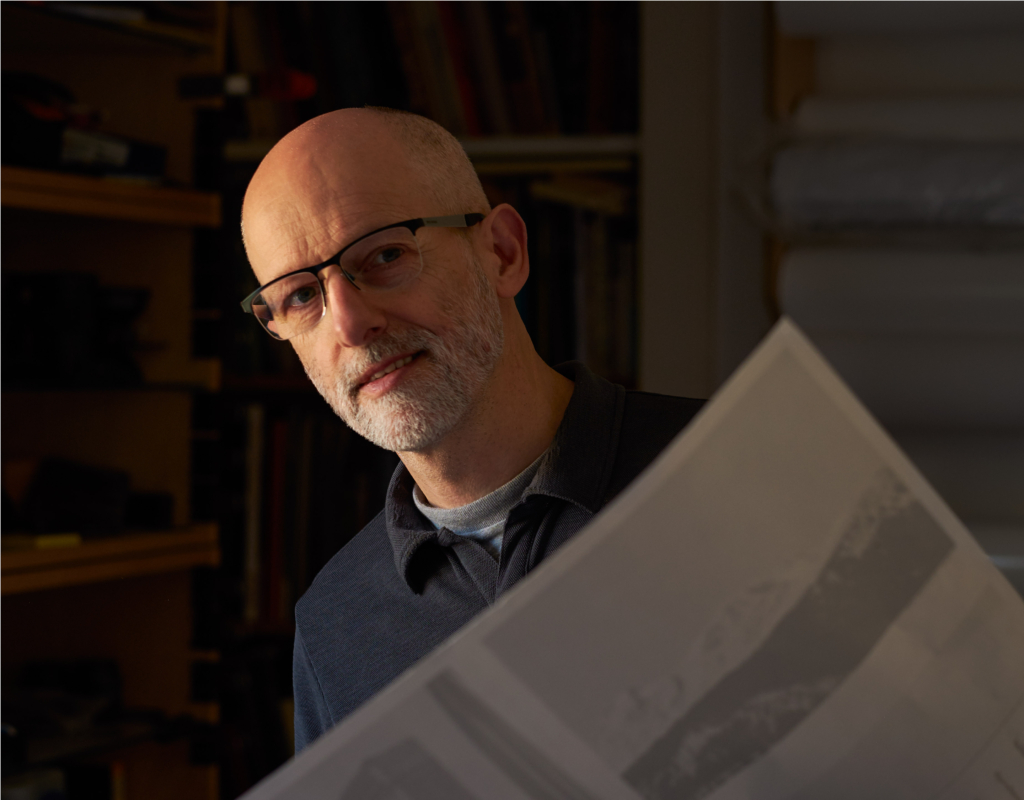 Photographer John Riddy (b. 1959, Northampton) lives and works in London and has exhibited internationally since 1998. He studied Fine Art at Chelsea School of Art and began working with Frith Street Gallery (London) in 1993. Architecture, the particularities of place and the urban environment have been constant subjects, whilst the starting point for many of his series has been the relationship between photography and the history of art and architecture. A survey exhibition John Riddy: Photographs was held at the De Pont Museum in 2019. Solo exhibitions and publications include John Riddy at Camden Arts Centre (2000), Views from Shin-Fuji at the Victoria and Albert Museum (2006), Of Things Placed (2015), Palermo (2013), Low Relief (2009), Praeterita (2000) and Rome (1999). His work is held in numerous permanent collections including Tate, The Victoria and Albert Museum, The Stedelijk, The Art Institute of Chicago, De Pont, The Rubell Family Collection, The British Council Collection and The Art's Council of Great Britain.
In Hogarth: London Voices, London Lives, 10 September-31 December 2020, Riddy is showing six works from his series Low Relief. The series focuses on London's architecture and streets and the changing nature of both natural and artificial light. Riddy photographs each scene with a classical structure of fore, middle and background to position the viewer as if in the audience of a theatre. By presenting each London location from the same standpoint, the Bank of England, The Garrick Club and a South London Housing Estate are given equal status and value to the viewer. This frontal view connects the pictures, and as a group they form a record and memory of a changing London.
While human presence is absent in the photographs, Riddy captures the ghosts and surface texture of London's architecture including the statue of Sir John Soane on the Bank of England, frozen in marble and Portland stone.
John Riddy Sale: 10am on 9th October to midnight on 12th October. Archival Pigment Print. Edition of 25, first 18 at £600, last 4 at £800. (Artist retaining editions 23-25)
IMPACT: Your donation of £600 could provide 2 outreach family workshops in disadvantaged wards of the borough
Emily Allchurch
---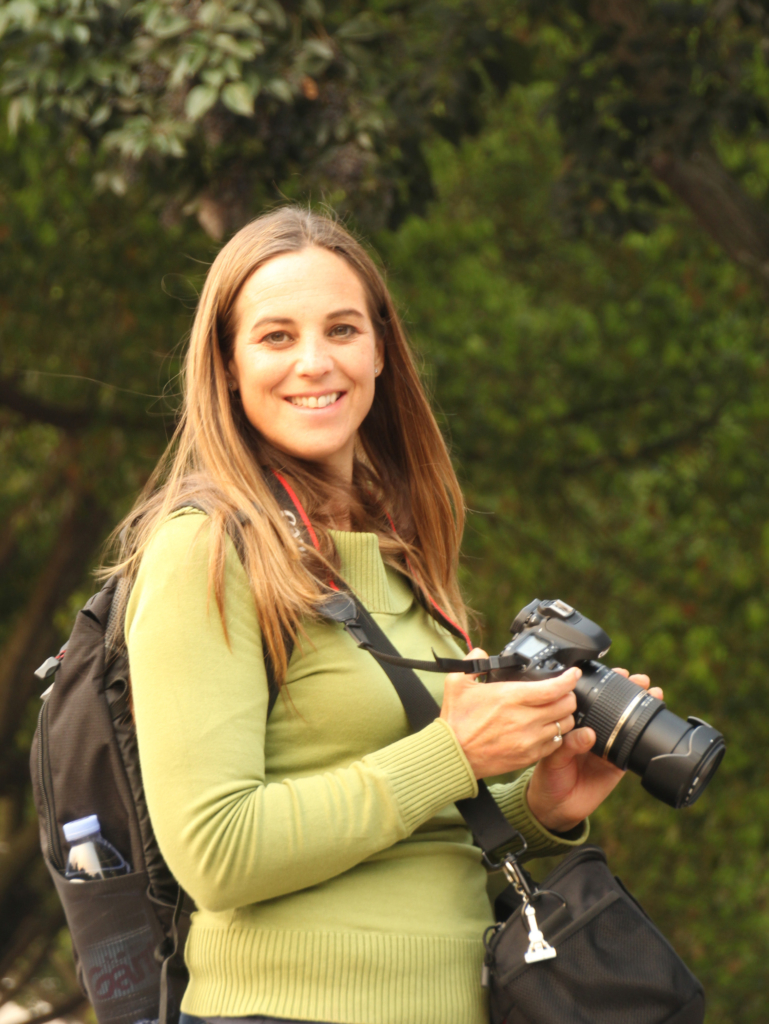 Emily Allchurch was born in Jersey in 1974. She received a First Class (Hons) Degree in Fine Art from the Kent Institute of Art & Design in Canterbury (1996) and an MA from the Royal College of Art in London (1999). She has since established an international reputation for her complex and intricate photographic compositions. She has exhibited regularly in solo and group shows in the UK and internationally, including the USA, Canada, Hong Kong, Japan, Singapore, Italy and Germany. Her solo museum exhibitions include In the Footsteps of a Master at Manchester Art Gallery (2015) – which toured to the Djanogly Art Gallery in Nottingham – and Visions of Architectural Fancy at the Sir John Soane's Museum in London (2018). Allchurch has exhibited in the RA Summer Exhibition on multiple occasions and has also been the recipient of several Arts Council England Awards to support the creation of some of her more ambitious works.
In 2012 Allchurch was invited, along with Anne Desmet RA and Catrin Huber, to create site-specific works for the exhibition Sense of Soane at Pitzhanger Manor. Allchurch made her Grand Tour: In Search of Soane specifically for this exhibition, and considers it to be one of her most important pieces. She remains incredibly grateful for the opportunity and inspiration offered by Pitzhanger Manor.
Allchurch commented "I was really inspired by Soane's visionary use of light in his interiors, and the way he uses light to create such dramatic, intriguing and inventive spaces"
If you are a fan of Soane's glass like Emily, we are delighted to offer the opportunity to Sponsor a Pane of Glass at Pitzhanger Manor. Glass Sponsors receive an architectural print with their pane of glass highlighted and have their name, or the name of a loved one, added to the Donor Board. You can read more about this offer here.
Emily Allchurch Sale: 10am on 13th October – midnight on 18th October. Archival Pigment Print. Edition of 40, first 35 priced at £500, last 5 priced at £650.
IMPACT: Your donation of £500 could provide 3 relaxed Visits for neurodiverse children and families
Miyu Kurihara
---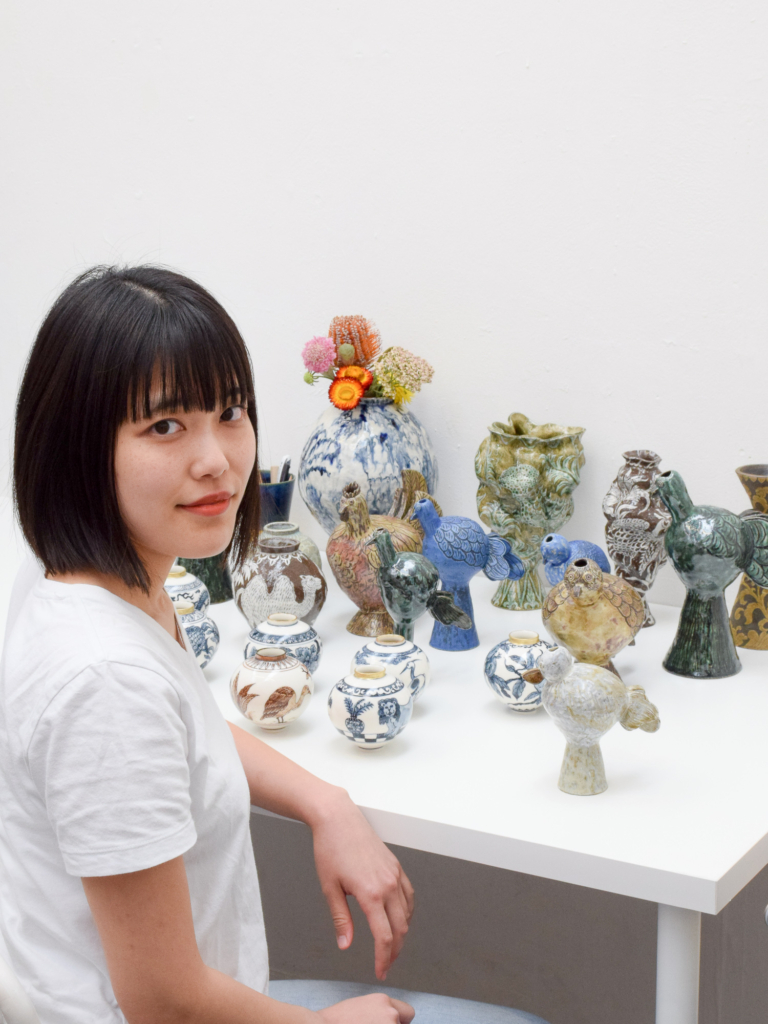 Miyu Kurihara was born in Frankfurt, Germany in 1989. She is a Japanese artist who makes hand painted ceramics and is currently working and living in London. In 2014 Kurihara studied a BA course in Department of Product and Textile Design at Tama Art University in Tokyo, going on to study her MA course in Textile Design at the Chelsea College of Arts' University of the Arts London in 2016. She has since had several solo exhibitions in Tokyo and London including Central Saint Martins, The Old Truman Brewery, Harajuku Gallery and the Spiral Garden in Tokyo.
The offer to collaborate with Pitzhanger has given Kurihara the opportunity to study the great architectural intricacies of Soane's creation. Each room with its own differing themes, presents a wealth of design that inspires. The direct link to the stained-glass windows is apparent in her own designs for her vases. The upper drawing room with its Chinese designed wallpaper and its running motifs, specifically of the birds, has been of particular resonance for Kurihara in her own on-going ceramic designs.
Miyu Kurihara Sale: 10am on 19th October – midnight on 22nd October. Ceramics. Prices from £60.
Othello De'Souza-Hartley
---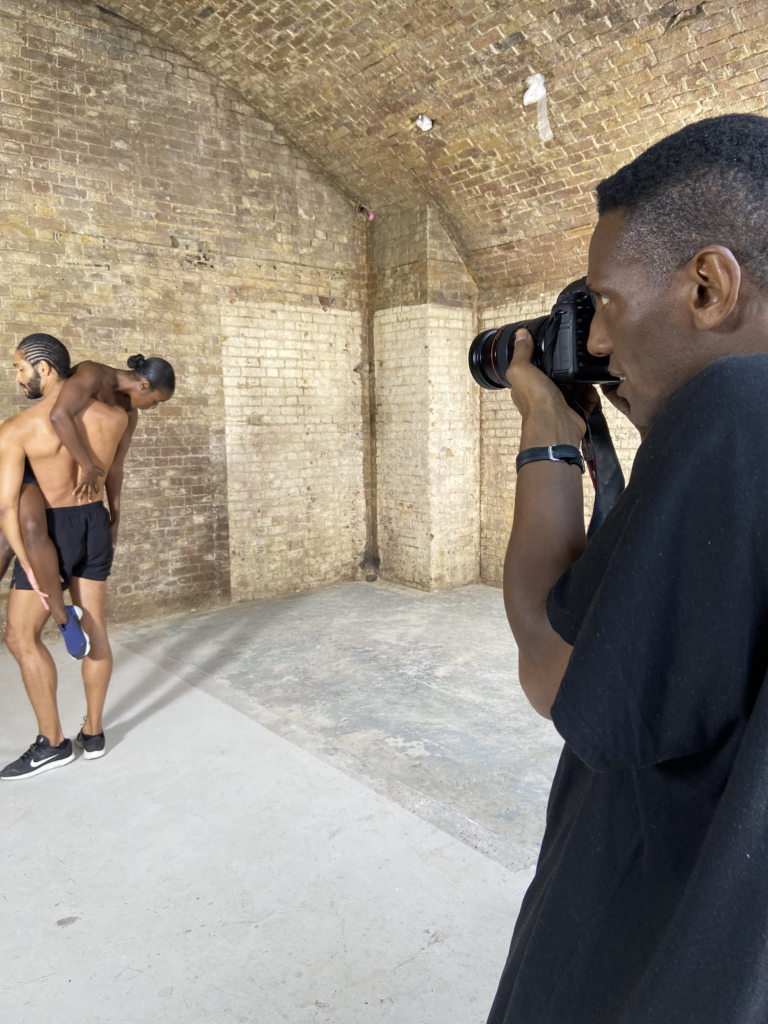 Othello De'Souza-Hartley is a mixed media artist. His artistic mediums include photography, film, performance, sound, drawing and painting. He received an MA in Fine Art from Camberwell College of Art and previously studied photography at Central St Martins. De'Souza-Hartley recently received a commission from Autograph for a group show taking place late 2020.
In 2019 De'Souza-Hartley was nominated for Peer to Peer for his Masculinity Project. Peer to Peer was a group show of 14 artists, selected by 14 curators and collectors from across the UK and China. The exhibitions took place at: Shanghai Centre of Photography Dec 2019, Open Eye Gallery, Liverpool October 2019, Photo Fair Shanghai September 2019.
He is the recipient of numerous commissions from a range of institutions including, Museum of Liverpool, National Portrait Gallery, The National Trust, The Photographers' Gallery, Camden Arts Centre and Platform for Art. He has had solo shows at Campo XXV Aprile (Rome Art Week), Outside the Zone Gallery, Sulger-Buell Gallery, The Museum of Liverpool, Camden Arts Centre and The Underground Gallery, and featured in group shows at the Sulger- Buell Gallery, Gasworks Gallery and the APT gallery London.
De'Souza-Hartley's work is about identity and emotions. He is inspired by the mood and psychological themes of classical paintings. Architecture plays a significant role in De'Souza-Hartley's work as a coadjutor to the sitter. He works to create a harmony between the two, without one having more importance than the other and with each amplifying the other.
For De'Souza-Hartley, the interiors of Pitzhanger and particularly the focus just on the architecture resonate with him as an artist. That Pitzhanger on one hand is space abandoned by the Soanes while at the same time so rich with personal detail bears a common thread with the different architectural spaces that feature in his artwork.
Othello De'Souza-Hartley Sale: 10am on 23rd October – midnight on 29th October. Archival Digital Print. Edition of 40, first 35 priced at £375 + VAT, last 5 priced at £475 + VAT.
IMPACT: Your donation of £375 could provide two schools workshops.