Wednesday afternoon Walks
5th – 26th August 2pm – 3:30pm
Booking essential
These interactive and energetic walks will be led by Natasha Gavin. Participants will be engaged in active learning for an hour or so, picking up information along the way. Information sheets will be provided at the end of most walks. All walks are especially suitable for children.
Wednesday 5th August 2:00PM -3:30PM
Walk 1 Forage for your food! This walk will introduce participants to unusual weeds, plants, trees and shrubs that are all edible. It will include an informative treasure hunt around the kitchen garden, with limited tasted/smelling opportunities too. Families will discover how you can turn wild plants into delicious nutritious food. (Please note that sadly picking is strictly forbidden in Walpole Park though)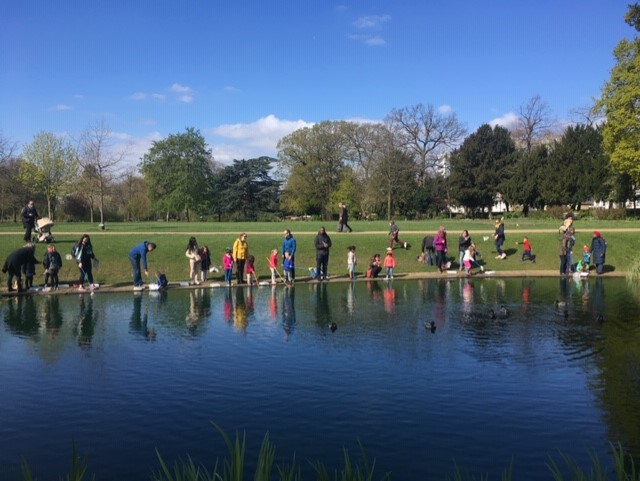 Wednesday 12th August 2:00PM -3:30PM
Walk 2 Where is the wildlife in Walpole? This walk will show families where to spot wildlife in the park, without disturbing it. Families will be encouraged to look under, over and up to spot a multitude of creatures- from the tiniest insect to the biggest mammal. Families will finish the walk knowing which habitats in the park are good for different animals- aquatic, woodland, wildflower meadow and open grassland.
Wednesday 19th August 2:00PM -3:30PM
Walk 3 Tremendous Trees. This interactive walk will introduce walkers to 12 significant trees in the park, and excite them with key facts about each tree. The walk includes games, and a family quiz at the end (with prizes). This 'tree tour' was run as a very popular workshop for schools in 2019.
Wednesday 26th August 2:00PM -3:30PM
Walk 4 (Resilience building) Nature Walk. This walk is intended to provide families with a range of simple physical park based activities using natural features, interspersed with brief moments of 'mindfulness'. After each physical challenge, during a short moment of calm, participants will be taken through appropriate techniques to deal with high levels of stress and anxiety. All techniques are appropriate for children, and include simple breathing and reflection activities.
This event is Covid compliant; we will be following government regulations for the safety of our participants and staff, please do wear a mask and we will be following the 2 metre distancing.